Content as part of the service;

Designing a web series based on user needs with a zero rupee budget. We shot 18 episodes in 2 days. It's been the most successful content creation exercise for LetsVenture with 16,000+ views across various digital channels.
LetsVenture was founded with the vision of making startup funding easy in India and wanted an external content experience that reflected this. Through user needs research and co-creation exercises, I helped design a content strategy that digitally extends investor access to startups via an 18 episode web series. The web series asks investors 3-5 sector and fundraising focused questions they usually get asked by founders. Watch a quick episode here:
I developed a 2 week research plan to gain a concrete understanding of the problem landscape. After interviewing founders, employees from the company and the CEO, here is what I found:
"Connecting with the right investor(s) is crucial for our fundraising journey. We always have a huge time pressure so it's important that we're in a space that allows conversation with a large number of potential investors." - Founders
"We are not a media source but it is important for us to share information on ecosystem trends and insights. This positions us better for startups that are actively fund raising and not on the platform." - Employees
 "LetsVenture has a rich investor network with India's top angels and Venture Capitalists. We should use this to communicate the platforms value in the content we publish." - CEO
From desk research and reading media consumption reports it was clear that video content is the most engaging. So from this we came up with our big idea. 'A web-series on investor insights.' We have access to top investors which is what startups want. While we can't connect everyone we can give founders access to investor mindshare via our content.
However we still did not have the budget to shoot a video series. I asked myself "Is there a way to leverage our existing resources to create high quality content without the price tags that come with that?"
Turns out, there was a way. LetsIgnite is LetsVenture's annual event and India's largest investor conclave. We decided to use the investor foot traffic to interview select investors. It didn't get better; everyone was under one roof. LetsIgnite brings together 200+ investors. We shortlisted 25 of the top investors and pre-arranged a time slot to interview them during the event. 
I collaborated with the investor relations team lead and the CEO to finalize relevant questions for each interview. Each episode features a 4-5 minute interview with the shortlisted investors asking them 3 questions related to their investment approach and domain expertise. 
18 episodes were filmed in 2 days. Some of the episodes became the most successful digital content we ever put up. We got a collective 16,000+ views across our blog, youtube channel and social media.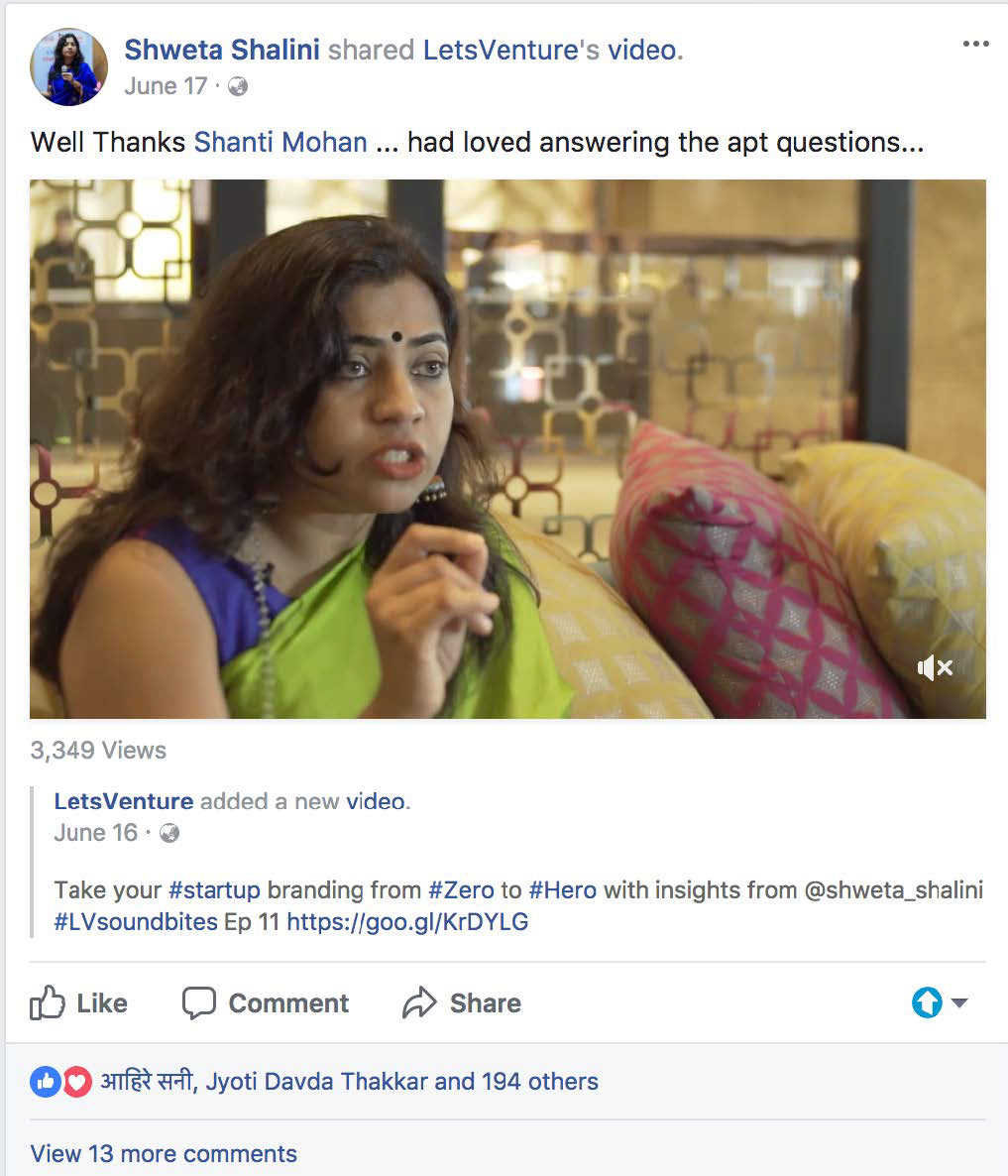 Importantly the founders, our target audience for this exercise, found real value in it:

This project validates how content is an important element of any digital service. It empowers users decision making, helps companies engage with their communities and increases the overall value of the services/products being offered. 
Got any thoughts/comments/feedback? Email me at amogh.lux@network.rca.ac.uk