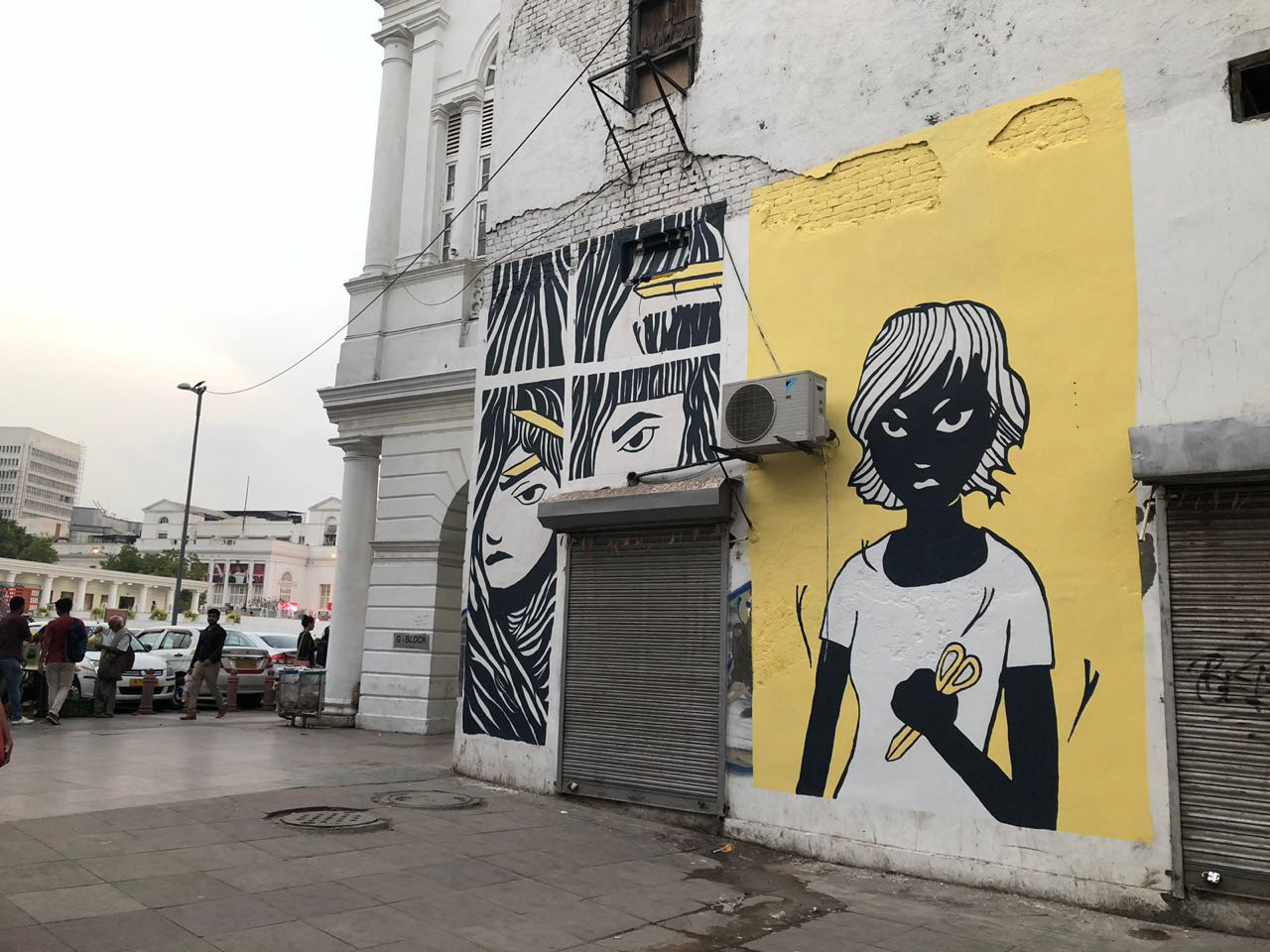 Over 2 million women and children are trafficked for sex into the red-light districts in India.
The Missing mural walk is a 6 city guerrilla art project conceived by the award winning anti-trafficking campaign, Missing. This initiative aims to start a dialogue with urban India about the dark world of trafficking (the public is the biggest stakeholder in this issue). Each city has its own set of murals and chatbot narrative. The murals invite viewers to talk to the art work via a facebook chatbot. It offers quick conversation and key take-aways about trafficking through an interactive narrative. Here is how it works:
" This is intelligent art. It really involves the viewer in this conversation ... and in a way that hasn't happened before."
- International Justice Mission
"I usually have a lot of criticism for what people do on this topic but this strikes me as just absolutely right."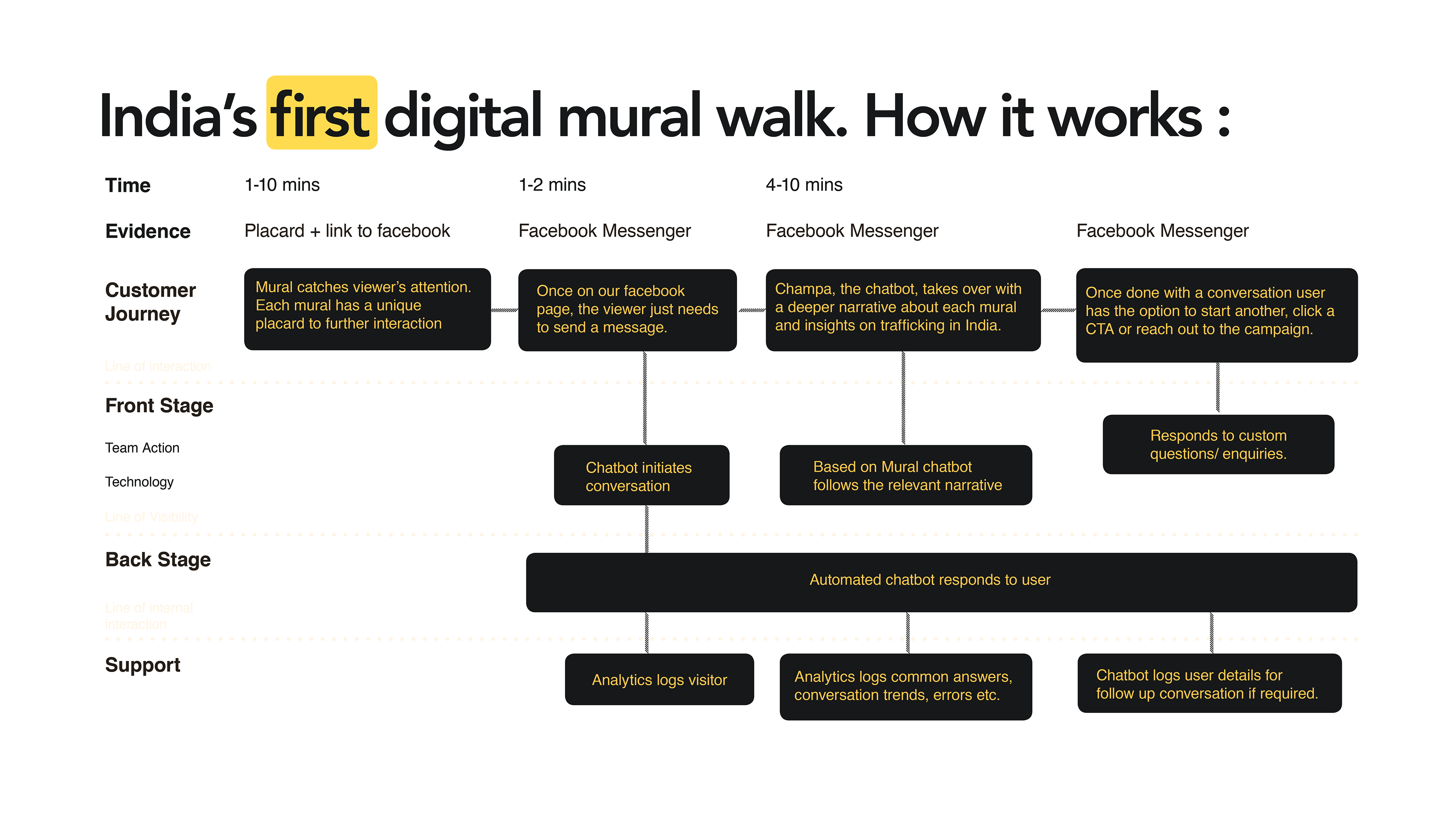 This project was inspired by reactions from the campaigns other initiatives. The stencil project was one of them. The stencil portrays a black hole to represent how millions of girls disappear from face of the earth every year. We conducted ethnography studies and found that each stencil in an urban location gets nearly 900 daily impressions. This data bolstered the value in public art and encouraged us to investigate how we might utilize this.
We interviewed 83 people from different high foot traffic zones in urban spaces to learn what they knew about trafficking

, what they thought about art, if they wanted to know the story behind an art piece and if they had enough interest to pull out their phones to learn about the art work. Here is a sneak peak of our interactions:
We used conversational UI to talk about the unspoken.



After studying key media consumption trends across India we wanted to tap into the fact that India was now Facebook's largest user base in the world and that there are over 250 million smartphone users in the country, a majority of who are concentrated across Indian metropolitans.

Our answer was a chatbot

. The chatbot features Champa, who is your virtual guide. Champa then interacts with you based on the mural you are standing in front of. What makes the chatbot an interesting tool is that it is platform agnostic; its a FB chatbot, is easily accessible and does not require additional app downloads

Our research told us that we need to have interactions between 1 and 2 minutes to make sure users are engaged. So we collaborated with expert psychologists and various NGOs to shape meaningful narratives. We also made sure to insert calls to actions at the end of each conversation so that people had a next step to pursue. Click on the image below to experience the mural walk digitally.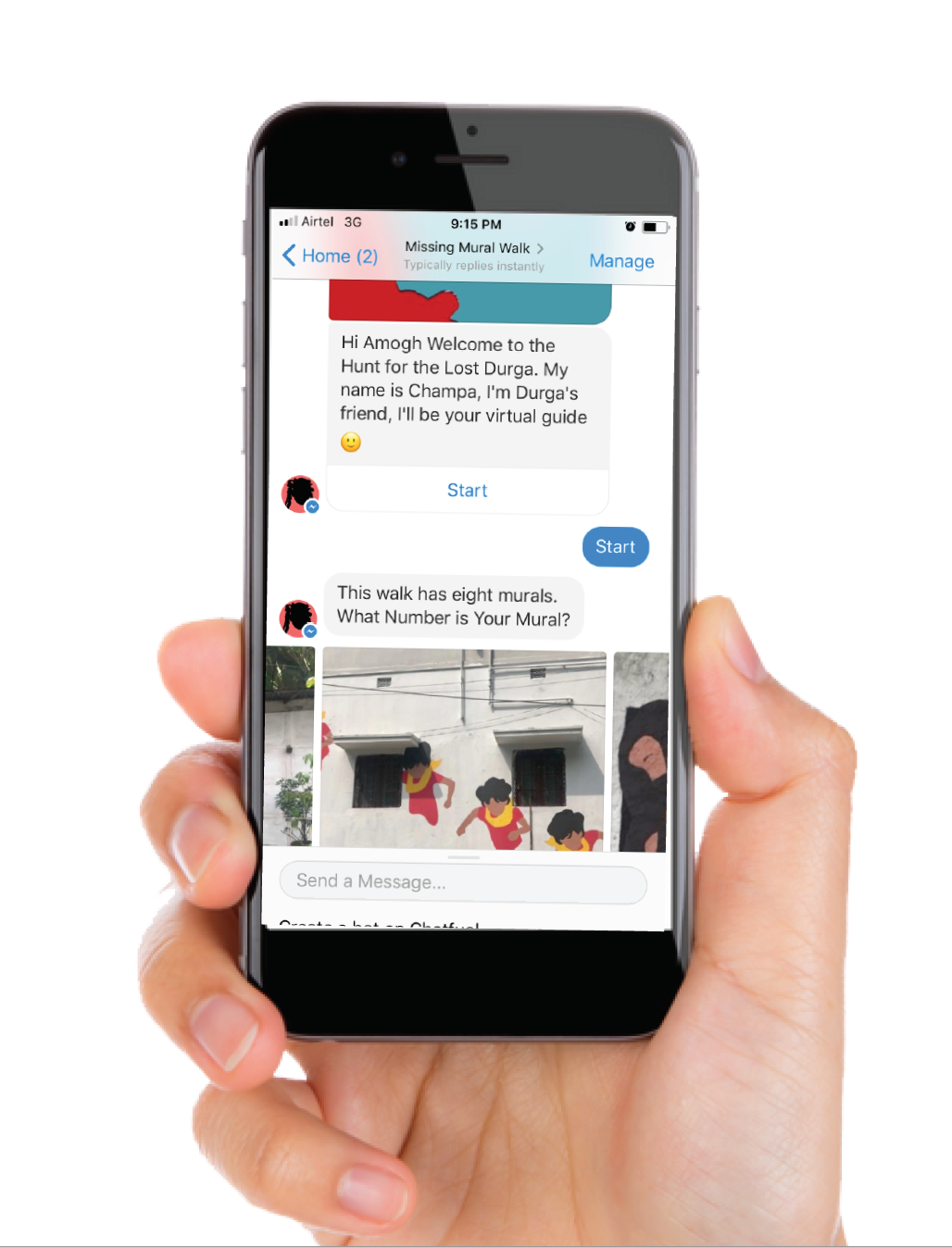 As design lead on the project I defined the research methodology, lead ideation for service, built the chatbot, created all the artwork and helped develop a strategic 'lean' expansion for the project across 6 cities. Here is a short project report with more information:
Got questions/ comments? email me at amogh.lux@network.rca.ac.uk